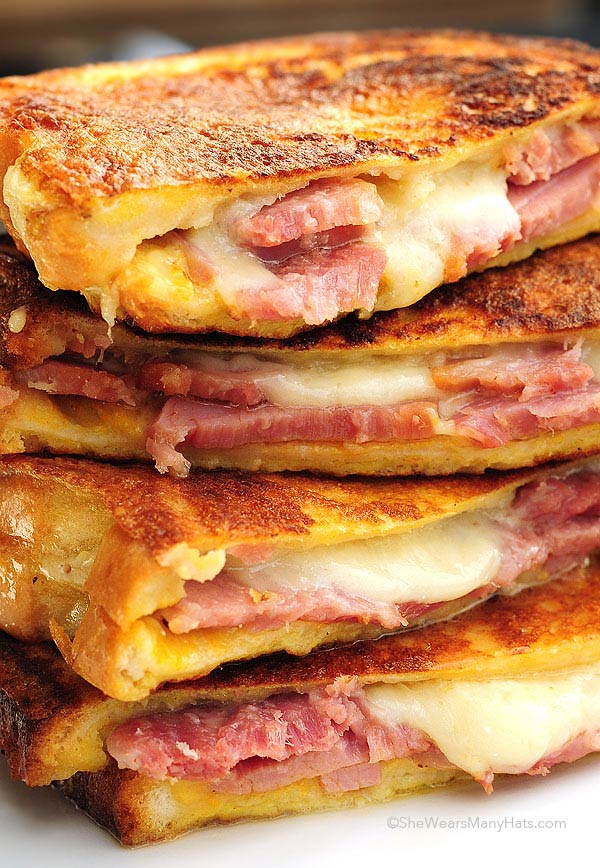 Sometimes, you get bored of the same sandwiches and you just want to make some change. Well, these Monte Cristo sandwiches will cheer you up! Check out how it's made.
Ingredients:
2 eggs.
Pinches of salt and pepper.
4 slices of sturdy white bread.
2 tbsps of mustard.
2 tbsps of mayonnaise.
½ pound of thick sliced baked ham.
½ ounce of weight shredded gruyere cheese.
More salt and pepper to taste.
2 tbsps of butter.
Powdered sugar, honey, preserves (optional for topping).
Directions:
In a large shallow dish, beat the eggs with the salt and pepper and set aside.
Assemble the sandwiches with the mustard, mayonnaise, ham, cheese, salt and pepper and slightly compress them..
In a skillet, melt the butter over medium heat then dip each sandwich in the beaten eggs and place in the skillet.
Cook for about 2 to 3 minutes per side until browned and Voila!
Easy, peasy and cheesy! You can get these ready in less than 15 minutes, so it can be perfect for breakfast in case you are running late!